Orange Mountains District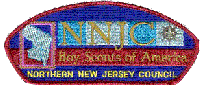 |
home


Advancement and Recognition Committee

A district advancement and recognition committee does the following:
1. Help unit leaders establish and maintain proper advancement procedures in their units. This is accomplished by working with the training committee in the advancement section of volunteer training courses and by working with the commissioner staff as they identify specific advancement needs and problems of individual Scout units.
2. Monitor rank advancement progress throughout the year and identify those units with little or no advancement that may need special assistance.
3. Recruit and train an adequate group of merit badge counselors. Publish a current list of merit badge counselors.
4. Review and approve service project plans submitted by Eagle Scout candidates. (An Eagle Scout candidate must plan, develop, and lead others in a service project in the religious organization, school, or community.)
5. Participate in troop boards of review, or conduct district -level boards of review for Eagle Scout candidates. (If an Eagle Scout board of review is held at the troop level, at least one district or council advancement committee member must serve on the board.)
6. Consider and act on appeals from Eagle Scout candidates if their troop denies their application or turns them down at the board of review.
7. Recommend youth members or adult Scouters for special awards and recognition.
8. Provide physical facilities and experts in advancement fields that are difficult for units to secure.